My name is Louise (Lollo) Jönsson.
I, my husband Magnus and our two boys Hampus and Ludvig live in a little village called Tjörnarp
about 40 miles NE of Malmoe, Sweden.
Our house has a big garden close to a large green area, and only 300 yards to the lovely lake and the the wonderful beech woods.
My interest in dogs started when i hosted my first coton bitch Icy (Nikette,s Johannas Icepearl). This was in 2001.
Our oldest son is allergic and we were worried for him, but it worked out real fine and so far no problems at all has appeared.
The next few years we acquired more dogs. We kept a bitch (Cassandra) and a dog (Hercules) from Icy`s third birth.
In 2004 I get familiar with the Bichon Havanais and learned that this breed also is harmless to allergic people. So, when I was invited to buy a Havanais-puppy (Buenazos Sue Ellen) I couldn`t resist. About 6 months later I bought another Coton (Piacotts Engla Something Special).
Both species are wonderful family-dogs, and they are very good for agility and loyalty.
We now have a small breeding farm in connection with our house. We participate in some exhibitions every year. Our goal is to breed healthy and happy dogs.
The dogs live indoors with the rest of the family. They follow us in travels and holidays.
We are very happy to be with our dogs, play and have all sorts of fun together.
We choose our puppy-customers with care and in breeding and business we always follow the rules of S.K.K. (Swedish Kennel Club).
Don`t hesitate to contact us if You are interested in Coton or Havanais.We will give You information about when a new birth is expected and other to consider before You decide to get one of our puppies to join Your family.
Lollo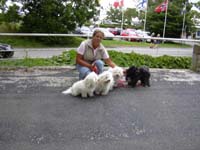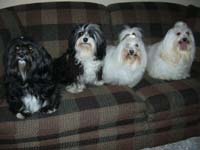 Lollo and the dogs